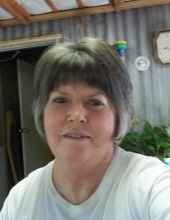 age 67, of Atlanta, Texas went to be with the Lord Friday, May 12, 2017 in an Atlanta, Texas hospital.
Billie was born July 29, 1949 in Dallas, Texas to Fred and Ozelle Mason. She was retired from Oakwood Village Retirement Community, Garland, Texas; a member of Macedonia Baptist Church, Doddridge, Arkansas and the Atlanta Animal League. She loved spending time with family, shopping and her pets. She was preceded in death by her parents.
She is survived by her husband, Jim Callahan of Atlanta, Texas; son Bryan VaLeu and wife Sandra of Linden, Texas; daughter, Kelly Stone and husband Randall of Hope, Arkansas; sister, JoAnn Taylor of Atlanta, Texas; six grandchildren, Justin Dunlap, Zoey VaLeu, Gunner VaLeu, Michael VaLeu, Dalainie Hoopingarner, Hannah Stone; three great-grandchildren, Savannah VaLeu, Joseph Hoopingarner, Malachi McDaniels; and a number of other relatives.
Funeral services will be 10:00 am, Wednesday, May 17, 2017 at Macedonia Baptist Church, Doddridge, Arkansas under the direction of Hanner Funeral Service with Bro. George Goynes officiating.
Visitation will be Tuesday, May 16, 2017 from 6 pm to 8 pm at Hanner Funeral Service.