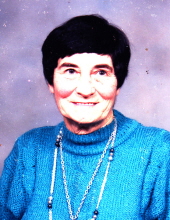 Earlene Lindberg, age 95, of Atlanta, Texas, went to be with the Lord, Monday, May 15, in an Atlanta, Texas nursing home.
Earlene was born July 4, 1921, in Cass County, Texas, to Walter and Lucille Walters. She was an author, writing children's books, a kindergarten teacher and a member of Smyrna Baptist Church, where she kept the nursery. She loved children, gardening, all kinds of animals, and collecting dolls. She was preceded in death by her parents, husband Ralph Lindberg; sister, Lillian Davis; and niece, Shirley Davis.
She is survived by a sister, Doris Walters of Atlanta, Texas; two nephews, Richard Davis and wife Barbara of Midland, Texas, Robert Davis and wife Jan of Australia; and a number of other relatives and friends.
Services will be 10:00 am, Thursday, May 18, 2017, at Smyrna Baptist Church, with Rev. Gene Parker and Jan McGowan officiating.
Visitation will be 6 pm – 8 pm, Wednesday, May 17, 2017 at Hanner Funeral Service.
Interment will be in Smyrna Cemetery.