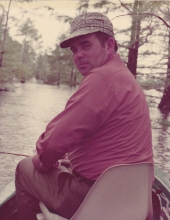 Billy Jack Mote, age 90 of Atlanta, Texas went to be with the Lord Sunday, June 4, 2017 in a Atlanta, Texas nursing home.
Billy Jack was born May 9, 1927 in Paducah, Texas to O.L. and Rosaleen Woods Mote. He was retired from Tex D.O.T., served in the United States Army and was a Baptist by faith. He enjoyed reading his Bible daily, spending time with family at his cabin on Caddo Lake, fishing, playing dominoes and woodworking.
He is survived by a son, Marc Mote and wife Gina of Atlanta, Texas; two daughters, Marsha Mote Stanton and husband Barry of Pearl River, Louisiana, Rosemary Mote of Dallas, Texas; four grandchildren, Adam Stanton, Carly Mitchell and husband Nick, Logan Mote, Austin Mote; a great-granddaughter, Sophia Stanton; and a number of other relatives.
Funeral services will be 11:00 am, Wednesday, June 7, 2017 at the Hanner Funeral Chapel with Bro. Hal Haltom officiating.
Visitation will be Tuesday, June 6, 2017 from 6 pm to 8 pm at Hanner Funeral Service.
Interment will be in Pine Crest Cemetery.
Those wishing to memorialize Billy Jack may make contributions to your local chapter of the American Red Cross.