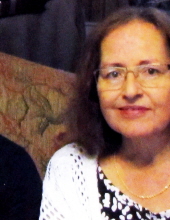 Sharon Johnson, age 54, went to be with the Lord, Friday, June 2, 2017, in a Humble, Texas nursing center.
Sharon was born October 31, 1962, in Houston, Texas to Gilmer Lamont and Iva Nell Long Phillips. Sharon was baptized into the United Pentecostal Church, she enjoyed crafts, gardening, and singing. She was known as a very giving and helpful person, especially to the elderly who depended on her to help them get the benefits they needed for their housing. She adored her grandchildren and loved spending time with her family.
She is survived by her parents, Gilmer and Iva Nell Long Phillips of Porter, Texas; three sons, James Gentry Johnson and wife Misty, of Anna, Texas, Justin Boyet Johnson and wife Kelsey of Abilene, Texas, Shawn Michael Johnson and wife Brianna of Porter, Texas; two brothers, Rev. Jeffrey Phillips and wife Sheryle of DeRidder, Louisiana, Steven Phillips and wife Beth of Porter, Texas; grandchildren, Hayley Crouch, Addison Johnson, Wyatt Johnson; three nephews, Ethan Osborne, Matthew Phillips, Brandon Phillips; two nieces, Jessica Black, Jennifer Phillips; and a number of other relatives and friends.
Services will be 1:00 pm, Tuesday, June 6, 2017, at Hanner Funeral Chapel, with Rev. Jeffrey Phillips and Rev. Danny Lewis officiating.
Visitation will be from 6 pm – 8 pm, Monday, June 5, 2017, at Hanner Funeral Service.
Interment will be in Huffines Cemetery.