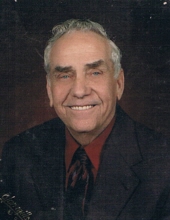 Troy Pate, age 85, of Atlanta, Texas, went to be with the Lord, Saturday, June 3, 2017, in a Texarkana, Texas hospital.
Troy was born, May 2, 1932, in Cass County, Texas, to David and Lillie Pate. Troy was a member of the Carpenter's Union, Piney Grove Baptist Church and served in the United States Army during the Korean War. He was a landlord, and enjoyed gardening, fishing, watching and listening to old western movies and songs. He was preceded in death by his first wife, Wanda June Pate; and a brother, Henry O Pate.
He is survived by his wife, Pat Pate of Atlanta, Texas; a son, Troy VL Pate, Jr. and wife Chris Ann of Arlington, Texas; two daughters, Vicki Lyn Box and husband Ricky of Pearland, Texas, Kristal Pate of Arlington, Texas; two brothers, Raymond Pate of Texarkana, Texas, Louis D Pate of Atlanta, Texas; a sister, Ethel Powell of Atlanta, Texas; two grandchildren, Dallas Box, David Pate; stepson, Lamar J. Little of Tomball, Texas; step daughter, Lynn R. Thomas of Atlanta, Texas; and a number of nephews, nieces, and other relatives.
Services will be 10:00 am, Saturday, June 10, 2017, in the Hanner Funeral Chapel.
Visitation will be from 6 pm – 8 pm, Friday, June 9, 2017, at Hanner Funeral Service.
Interment will be in Center Grove Cemetery.
Guest registry is available at www.hannerfuneralservice.com