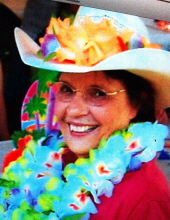 Laveda S. "Vee" Cunningham, age 72, of Atlanta, Texas went to be with the Lord Sunday, June 11, 2017 in a Texarkana, Texas hospital surrounded by family.
Laveda was born October 4, 1944 in Atlanta, Texas to Obin and Claudie Spraberry. She was retired from Guardline; was a founding member of Cross Creek Cowboy Church and the Anteeks Bible Study. She loved spending time sewing and quilting. She was preceded in death by her husband, Ray Cunningham; parents, Obin and Claudie Spraberry; two brothers, Don Spraberry, Roy Spraberry; and a sister, Flo Hayward.
She is survived by a son Eric Cunningham and wife Shannon of Rodessa, Louisiana; daughter, Penny Baker and husband James of Mount Pleasant, Texas; two brothers, Johnny Spraberry of Atlanta, Texas, Toby Spraberry of Atlanta, Texas; two sisters, Elaine Foster of Atlanta, Texas, Sherry Browning of Texarkana, Texas; five grandchildren, Samantha Lummus, Dusty Cole, Sarah Cunningham, Jamie Baker, Ashlee Baker; six great-grandchildren, Jacob Baker, Jilliann Baker, Dub Lummus, Dodge Lummus, Walker Allen, Lane Hughes; and a number of other relatives.
Funeral services will be 10:00 am, Wednesday, June 14, 2017 in the Hanner Funeral Chapel with Bro. Todd Elliott and Bro. Ronnie Treadway officiating.
Visitation will be Tuesday, June 13, 2017, from 6 pm to 8 pm at Hanner Funeral Service.
Interment will be in Enon Cemetery, Miller County, Arkansas.