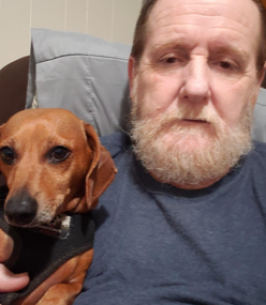 James David Cochran, born September 29, 1957, in Modesto CA, passed from this life and went to be with his Lord and Savior on February 18, 2023, in Texarkana TX. He was 65 years old and a resident of Magnolia AR.
James is preceded in death by parents Terrell Henry Cochran and Hazel Lura (Acklin) Cochran; and brothers Clyde Cochran and Jessie Cochran. He is survived by his daughters Kisha Chambers and husband Brian of New Jersey, and Jenny Modisette of Springhill LA; sisters Peggy Waters of Cache OK, Deborah Hendrix of PA, and Trixie Petty and husband Curt of Hooks TX; grandchildren Elizabeth Chambers, David Chambers, Rachel Chambers, and Aubri Bonner; and beloved dog and best friend, Oscar.
In his free time, James enjoyed reading his Bible multiple times a day and holding Bible Studies with his friends from Magnolia Central Baptist. He was a devout Christian and was secured in his salvation. He is remembered as a reserved man, yet humorous. The center of his world was his beloved dog, Oscar. James loved Oscar like a child, and often referred to him as his son. They were thick as thieves. Wherever one was, the other was never far behind.
A visitation for family and friends will be held at Everett Baptist Church, in Hooks TX, on Thursday, February 23, 2023, from 10:00am-11:00am. A funeral service will follow immediately beginning at 11:00am. Burial will be held at Everett Baptist Church Cemetery upon conclusion of the service.