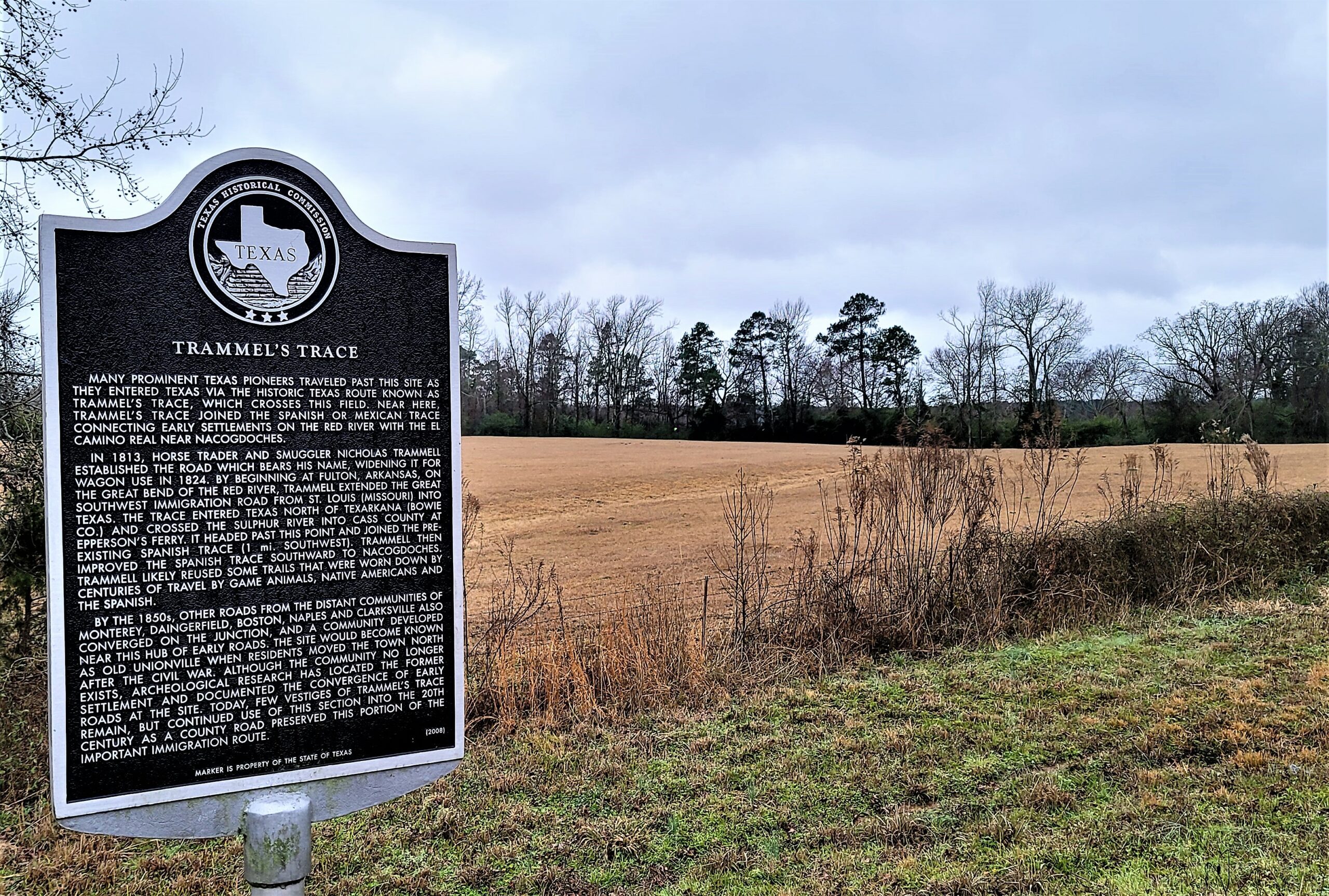 Texas Country Reporter airs Trammel's Trace episode today
BRYAN'S MILL – When Cass County native, Gary Pinkerton, sent a "message in a bottle" letter to Bob & Kelli Phillips of Texas Country Reporter some years back, he was hoping they might do a story about Trammel's Trace. It finally came to fruition in early 2022 when they trekked to the family farm to film an episode.
That episode aired last weekend on TV stations across the state. Tonight – Friday, March 3 – it will air at 8 pm Central on the national cable channel RFD-TV.
Traces of Trammel's trail in Cass County
By Kate Stow
Long before any communities were formed in Northeast Texas, the Caddo Indians populated the three-state area. The Kadohahacho, one of the tribes of the Caddo living in East Texas, made their homes in switch cane huts shaped like beehives.
The friendly Caddoans produced black leather clothing and pottery. Their term "Teyshas" means friend or ally and became the name of the new Republic in 1836 and in 1845 the state of Texas.
In the early 1800's settlers began to make their way westward from the East Coast. Some came by riverboat to the ports in Jefferson, and others by wagon on a path from Arkansas southward over the Red River into the Republic of Texas.
The trail most often used was called Trammel's Trace. Named after Nicholas Trammell (1780-1856) of Tennessee, it began as a smuggler's trail during the time when Spanish and Mexican authorities attempted to control trade in the region. Trammel travelled the path to Mexican territory from Tennessee and back frequently to trade horses and contraband.
Trammel's Trace was the first route from the United States into the northern boundaries of Spanish Texas where it intersected with EL Camino Real do los Tejas in Nacogdoches. By the 1820s, as Mexico gained independence from Spain, smuggling declined as Anglo immigration became the primary use of the trail. Familiar names such as Sam Houston, David Crockett, and James Bowie joined throngs of immigrants making passage along Trammel's Trace.
Trammel's' Trace across Cass County is fairly well documented.  It entered the county at Epperson's Ferry on the Sulphur River near Cusseta and exited the county just west of Avinger.
The site of the ferry is now underwater – flooded when Lake Wright Patman was built – however, Texas Historical Marker No. 9478 has been placed beside US Highway 67 in Maud.
On Highway 77 in Bryan's Mill – between Douglassville and Naples – another historical marker is placed to commemorate Trammel's Trace. Down the hill, on the other side of an old barbed-wire fence, one can make out the old indentation of a trail in the field.
Those wagon ruts are all that remain of the path led our ancestors to the place we would eventually call home. Drive over and take a look before they are gone, without a….trace.