by Kyler Fitts
The LK girl's softball team placed second in the tournament held in LK over the weekend. They will be playing another tournament in Campbell starting Friday March 3rd.
Number 22, Junior Lacey Johnson, comes up to bat for the Lady Tigers and lands a solid hit.
The boy's golf team went to Texarkana Monday and placed 4th out of 7 teams. Dylan Stanley placed 5th as an individual with a score of 87. Kyler Fitts placed 7th with a score of 90. Tylton Surratt shot a 110, Reno Burson shot a 113, and Tae'shun Mitchell shot a 120.
Monday, February 27th Jackson Stebens, Aamyiah Mack, Lacy Johnson, and Luke Slatton represented LKCISD at the FFA convention. Super proud of these kids' hard work and dedication to this school and program.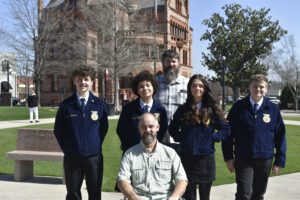 Pictured above Jackson Stebens(8th grade), Aamyiah Mack (9th grade), Lacy Johnson (11th grade), and Luke Slatton (8th grade) and sponsors Timothy Barger and Damon Donald.
The boy's baseball team beat New Boston 11-7 on Tuesday and will be heading to Prescott Arkansas for a tournament Friday and Saturday.
The boys and girls track teams are competing in Paul Pewitt on Friday, March 3rd.