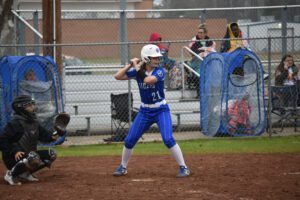 Last night the Lady Tigers opened up district play by traveling to Bloomburg to take on the Wildcats. Our Tigers took the lead early by scoring 9 runs in the top of the first inning. We hit a little slowdown in the midst of the game but came away with a 17-7 victory.  
Next game will be Friday at home vs Harts Bluff.
Monday, Jr. High Boy's track and field competed at the Jr. High Tiger Relays.  The LK Tiger Pride was in full effect.  Every boy competed to the best of their abilities and their efforts paid off.
 7th grade boys finished the meet in 4th place with 53 points.
7th grade boys
Ja'Koryn Love (2nd place Long Jump, 3rd place 200M, 5th place 100M)
Axel Munoz (1st place 400M, 1st place 800M, 5th place Long Jump)
Alan Pena (Shot Put & Discus)
Weston Teel (1st place High Jump, 6th place 200M, 7th place 100M)
Dalian Turner (Shot Put & Discus)
Ethan Whatley (4th place 400M, 8th place 200M, 9th place 100M)
8th Grade Boys finished the meet in 5th place with 39 points
8th grade boys
Brayson Dalrymple (8th place 200M, 10th place Long Jump)
Davon Finley (5th place 800M, 6th place 100M, Long Jump)
Jacob George (4th place 400M, 3rd place 4x100M, 4th place 4x200M)
Jerric Madison ( 3rd place 4x100M, 4th place 4x200M)
Jason Moore (shot put & discus)
Ashtin Owens (5th place 110Hurdles, 3rd place 4x100M, 4th place 4x200M, 6th place Long Jump)
Ayden Rainge (2nd place 100M, 3rd place 4x100M, 4th place 4x200M, 6th place Triple Jump)
Luke Slatton (shot put & discus)
Jackson Stebbens (shot put & discus)
On Friday, the Lady Tiger Track team participated in the Doug Sibley Brahma Relays at Pewitt.  The Lady Tigers had a strong showing for their first meet of the season.  We finished 3rd overall (out of 14 schools) behind two 3A schools.  Individual finishes/places on the day were:
Jamiah Birmingham – 2nd place – Triple Jump
Carley Hays – 3rd place – Long Jump
400m Relay – 2nd place (Madi Bynum, Ashtin Patterson, Jakiah Birmingham, Jamiah Birmingham)
Jacee Quaid – 6th place – 100m Hurdles
800m Relay – 2nd place (Bynum, Patterson, JK Birmingham, JM Birmingham)
Jacee Quaid – 4th place – 300m Hurdles
Jamiah Birmingham – 2nd place – 200m Dash
Madi Bynum – 3rd place – 200m Dash