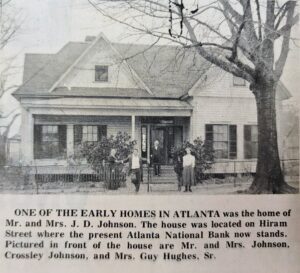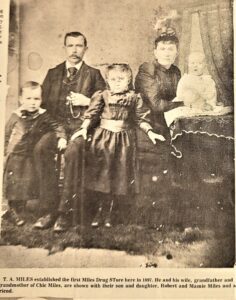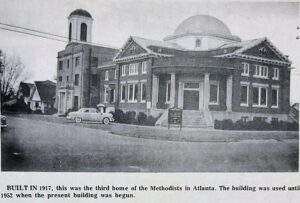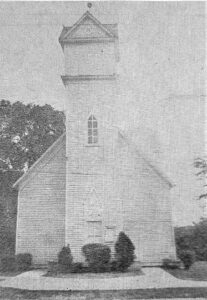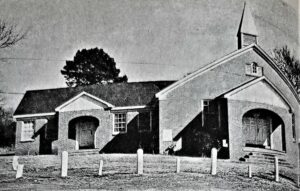 By Kate Stow
Many churches were built throughout Cass County before the town of Atlanta was founded. Those churches were the pillars on which communities were based and many are still going strong.
Once Atlanta was plotted, along with businesses came churches. Three of the very first were the First Presbyterian Church, First United Methodist Church and First Baptist Church.
1871 – The First Presbyterian Church
The First Presbyterian Church in Atlanta was organized as a Cumberland Presbyterian Church on September 3, 1871, with 15 members, at the site where it still stands today. The present building was erected in 1885.
The first Elders were Josiah Massey, Henry L Ray, George C. Barber, P.G. Murph and George W. Wilmoth. The first pastor was Jacob W. Blanton.
1873 – The First United Methodist Church
The Methodist Episcopal Church of Atlanta was first organized in 1873 with Rev J. Osgood as pastor. Services were held under a brush arbor on Hiram Street where Ellington Memorial Hospital was later built.
A church was built in 1939 on the corner of Louise and Hiram streets. Eventually there were four buildings built in that spot over the years before the First United Methodist Church moved to their present location on Lindsey Lane.
Following is a list of preachers during the first 100 years of the church: 1873 Rev. J. Osgood; 1874 Rev. Matthew Leach; 1875 Rev. T.J. Milam; 1876-77 R.G. Sewell; 1878-79 James Graham; 1880 Rev. W.R. Manning; 1881 Rev. L.L. Puckett; 1882-83 Rev. B.F. Hays; 1884 Rev. J.W. Horn; 1885-86 Rev J.W. McKee; 1887 Rev Richard Lane; 1888-89 Rev J.E. Walker; 1890 Rev. W.A. Edwards; 1891-92 Rev S.A. Ashburn; 1893 Rev T.J. Milam; 1894 Rev H.O. Moore; 1895-97 Rev A.A. Wagon; 1898-99 Rev J.W. Johnson; 1900 Rev. J.T. Stafford; 1901-03 Rev Charles A Tower; 1904-06 Rev C.B. Cross; 1907-09 Rev J.C. Jones; 1910-11 Rev C.F. Smith; 1912 Rev T.G. Whitten; 1913-14 Rev. E.W. Watson; 1915-16 Rev C.T. Cummings; 1917-20 Rev E.A> Maness; 1921-24 Rev William Dean White; 1925-26 Rev Clyde B Garrett; 1927-29 Rev E G Cooke; 1930-32 Rev John Goodwin; 1933-36 Rev A.E. Rider; 1937-38 Rev L.H. Mathison; 1938-40 Rev R.C. Goens; 1940-42 Rev Frank Dent; 1942-44 Rev Herman T. Morgan; 1944-46 Rev Chester E Harris; 1946-50 Rev J Roy Gibbs; 1950-55 Rev John Wesley Hardt; 1955-58 Rev Carlos Davis; 1958-59 Rev Leslie D Scott; 1959-61 Rev Larry M Stokes; 1961-65 Rev James T Garrett; 1965-6 Rev E Jewell Strong; 1967 Rev Frank M Richardson; 1965-1967 Rev. E. Jewel Strong; 1967-1973 Rev. Frank M. Richardson; 1973-1978 Rev. J. Stewart Bell; 1978-1983 Rev. Jim Ross; 1983-1985 Rev. S. Merle Waters; 1985-1988 Rev. Guy E. Pry; 1988-1992 Rev. Robert L. Renfroe; 1992-1997 Rev. Thomas E. Lyles, Jr.; 1997-2000 Rev. Jan R. Putnam; 2000-2002 Rev. Fred Lang; 2002-2005 Rev. Randy Carrion; 2005-2008 Rev. Michael Toland; 2008-2010 Rev. Alex Lupo; 2010-2015 Rev. Guy Williams; 2015-2020 Rev. Jacob S. Smith; 2020-Current Rev. Andrew B. Weber.
1875 – First Baptist Church
The First Baptist Church of Atlanta, Texas, was organized February 17, 1875, with nine members. The present church auditorium was constructed in 1896. The value of the church at the time it was built was given as $9,000.00; Seating capacity was 500.
In 1926, the church building was remodeled into an auditorium and brick veneered. A two-story and basement brick Sunday School annex was built in the rear. The first parsonage was erected in 1907, during the pastorate of E.
P. West.
Mr. A. Miles was one of the organizers of the church and served as its Sunday School Superintendent from its organization until his death in October, 1927, fifty-two years and six months. The church started with one-fourth time preaching and went to half time preaching in 1883, with a membership of 64; went to full time pastorate in 1890 with a membership of 133. Membership rose to 230 in 1909 and to 438 in 1929.
The Baptist Sunday School had 60 members and eight teachers in 1884 and 132 members with fourteen teachers in 1890 and 251 members.
Pastors Serving the Church for the first 60 years were: Rev. M. Lambright, February, 1875 to September, 1875;
Rev. J. C. Ward, December, 1875 to December, 1878; Rev. Perry Hawkins, December 1878 to May, 1880; Rev. H. Sheffield, June, 1880 to September, 1881; Rev. J. W. Erwin, November 1881 to December 1882; Rev. J. A. Jackson, March 1883 to June 1889; Rev. C. B. Hollis, October 1889 to January 1890; Rev. R. N. Hall, February 1890 to October 1892; Rev. J. B. Armstrong, December 1892 to April 1897; Rev. T. H. Landers, May 1897 to June 1897; Rev. W. F. Hatchcl!, Juno 1897
to September 1898; Rev. W. A. Reagan. December 1898 to December 1901; Rev. J. F. Haley, December 1901 to August 1902; Rev. T. A. Moore, March 1903 to January 1904; Rev. Z. J. Amerson, April 1904 to March 1905; Rev. E. P. West, May 1905 to January 1907; Rev. J. L. Mahan, February 1907 to September 1908; Rev. C. A. Loveless, October 1908 to February 1910; Rev. J. M. Mizzell, June 1910 to September 1912; Rev. L. McHan, April 1913 to November 1913; Rev. J. P. Olive, January 1914 to September 1917; Rev. J. B. Armstrong, October 1917 to December 1917; Rev. W. H. Anderson, November 1918 to January 1920; Rev. D. E. Hogan, October 1920; Rev. C. H. Reed, 1921;Rev. J. D. Fuller, 1922-23-24; Rev. C. F. Almond, 1925-26-27-28; Rev. R. O. Cawker, 1929-30-31-32; 33; Rev. W. E. Barnes, 1934-35; Rev. P. F. Squyres. 1936-37-38-39.


1882 – 1885 St. Paul CME Church
In 1882 the St. Paul CME Church was the first colored church to be built in Atlanta. The story of its founding begins with "Aunt Mary" Johnson, who was instrumental in the organization of this first church.
Johnson, along with a Mr. Lowe and a Mr. Maxie were responsible for the founding of the church in a one room frame building not far from where it is now located. It was built in 1882 with an original membership of three. The first pastor was the Rev J.C. Moorehead.
Some years later, this building was torn down and a new and larger church was built to accommodate a membership that had grown from three to about fifty. This new building was located on the corner of North Louise and Allday Streets.
In 1972 Mr. Ed Williams, then 82 years of age, recalled that during the early years, the Methodists shared their church with the Baptists. Methodist services were held on the first and third Sundays, and the Baptists met on the second and fourth Sundays.
The church is now located on the corner of John and Brown streets, not far from that original location.
1885 – First Baptist Church – Allday Street
The First Baptist Church, now situated in a brick building on the corner of Allday and Johns Streets, began in a one-room house in 1885. At that time, the Baptists shared a home with St. Paul CME Church. However, as more Baptists moved into the area, the group separated and formed a church of their own.
Rev. C. J. Johns was the leader who encouraged the founding of the church, and he served as its first pastor. The
first panel of deacons included: Westley Young, Ike Roberson, Jack Randoff, Tom Reed, Henry Rodgers, and Lee Anders Johns. Mrs. Margaret Harrison was appointed as the mother of the church.
The name of the church was suggested by Mrs. Harrison in honor of her hometown church in Kellyville, the Enon First Baptist Church. Soon after its organization, and the church received a plot of land from Preston Rose Scott.
In 1900, the church was renovated. During the pastorate of R. D. Barnette, the church was completely repainted and covered. Improvements were again carried out in 1915. The building was enlarged and the foundation was strengthened.
The first baptistry was built in 1944, and a dining room and church balcony were also added.
It was during the pastorate of C. H. Turner that the church became a full time church. Also during the late 1940's, the church was bricked and renovated at a cost of ten thousand dollars. In 1969, a new church was constructed on the same location that has housed the church since its founding.
Pastors who led the church during its' first century include: C. J. Johns; J. B. Dunbar; C. J. Johns; J. J. Alexander; T. E. George: P. R. Washington; R. D. Barnette; T.C. Rodgers; R. L. Sims, A. W. Pryor: A. C. Dones; Rev. Humphrey; W. A. Preston; J. E. Johnson; J. J. Johnson; C. H. Turner; Bernard Lee; assisted by Gus Steger; E. A. Coleman, assisted by Gus Steger; C. L. Alexander; C. C. McNealy, assisted by Maurice Hill: W. L. Bernstine, assisted by Maurice Hill; and J. H.
Carrington.