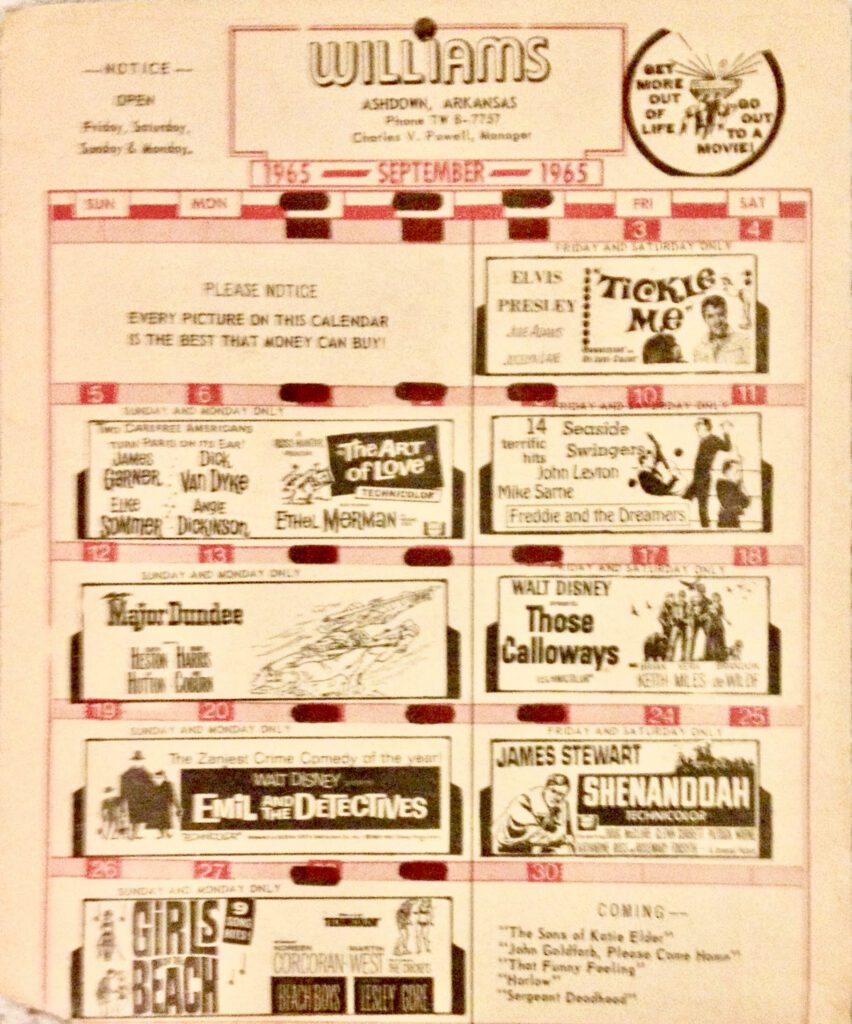 The earliest movie I remember seeing at the drive-in was Fantastic Voyage. If you haven't seen that one, it's essentially Honey I Shrunk The Kids. Only they weren't kids and it wasn't a comedy.
A group of American scientists and a submarine were shrunk to microscopic size and injected through a syringe into a Russian scientist to save his life.
Pretty heady stuff for a kid in footed pajamas sitting in the backseat of a '60 model Buick.
That was one of the best things about going to the drive-in. You could go as you were and no one else cared. Also, you weren't forced to sit in a theater seat. A Le Sabre was hands down more comfortable than a folding seat with a light film of popcorn butter.
According to a 2020 report from NPR, someone who didn't like the seats in movie theaters is responsible for the drive-ins we all grew up with.
Her name was Donna Hollingshead. She was a large lady and, for obvious reasons, wasn't comfortable in movie theater seats. So, she asked her son Richard to do something about it. Maybe a way to see a movie from an automobile, she suggested.
He complied with a projector on top of his car, and a sheet tied up between some trees. From this minimal beginning, the drive-in theater was born in the state of New Jersey.
Some 30 years after the first drive-in, I sat glassy-eyed, staring over the back seat of my mother's car, at a movie that was quite a bit above my level. The tinny sound of the speaker that hung from the driver's window made the actors on the screen sound as if they were in a well. But it was fun.
Fun enough that returning to the drive-in on my own became a frequent excursion during my teen years. A big reason for that was cost. My friends and I could pile into one car for a dollar. If there were only two of us, it was a quarter each to get in.
Like walk-in movie theaters, they make their money on the concessions. Hot dogs seemed to make more sense when you went to the drive-in. They were easier to handle there than in a theater.
So were the gigantic pickles, oversized boxes of popcorn, and candies.
Also, unlike seats in a theater, most cars then had a place to put your cup while you ate. All you had to do was open the glove box and let down its door. The automakers had put at least one, often two, spots where your cup could rest.
If it was summertime, whether you were at the drive-in in Ashdown, Arkansas, Texarkana, DeQueen, Nash, or other location, a mosquito coil was mandatory.
Mosquito coils were also sold at the concession stand. They resemble the burner on an electric stove. You could set one in the ashtray, light it, and enjoy the distinct aroma that only a mosquito coil can produce.
Nothing like a good ole' hot dog and the distinct smell of eucalyptus.
I guess that mosquito coils actually worked, but it seemed that regardless of whether you used one or not, the mosquito armadas were constantly attacking from all sides.
That's why the fall and spring were really the best times to go to the drive-in.
Often, the movie you'd see at the drive-in was one that hadn't done that well at the theater, so it quickly went over to the drive-in. Much like today when a film doesn't do so hot, and it winds up for a buck ninety-nine on the Internet.
However, that wasn't always the case. The Way We Were, with Robert Redford and Barbra Streisand, and Animal House with John Belushi are two I saw for the first time at a drive-in.
Texarkana, Arkansas had a large drive-in. I recall watching Belushi and the National Lampoon cast during an especially cold winter night with a couple of my buddies.
A few years later, we took my oldest son to a drive-in located in Nash, Texas near Texarkana. For a couple of dollars a car you could take as many people as you wanted. Again, they made most of their money from selling food.
I don't recall the film, but I do remember thinking about my first drive-in movie as we dressed our son for the trip. He had Spiderman footed pajamas and a pallet in the back of our station wagon.
As the credits rolled, a voice came on the window speaker. "Thank you for coming. Please leave at the exit, and don't forget the speaker. Thank you."
Every trip to the drive-in back then was indeed a fantastic voyage.
©2023 John Moore
John's books, Puns for Groan People and Write of Passage: A Southerner's View of Then and Now Vol. 1 and Vol. 2, are available on his website – TheCountryWriter.com, where you can also send him a message and hear his weekly podcast.