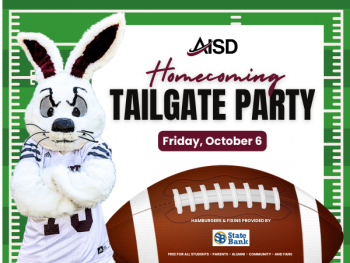 Atlanta ISD is buzzing with excitement as Homecoming is just around the corner! We invite all our students, families, alumni and community members to come together for a fantastic celebration on Friday, Oct. 6. Thanks to the generous support of State Bank, we'll be firing up the grill and serving delicious hamburgers at the Tailgate Party.
Homecoming activities include:
2:15 p.m. Homecoming Parade
3:00 p.m. Pep Rally
5:00 p.m. Tailgate Party
6:30 p.m. Homecoming Court Presentation
7:00 p.m. Kickoff Atlanta Rabbis vs. Sabine
Mark your calendars and join us for a memorable Homecoming celebration!