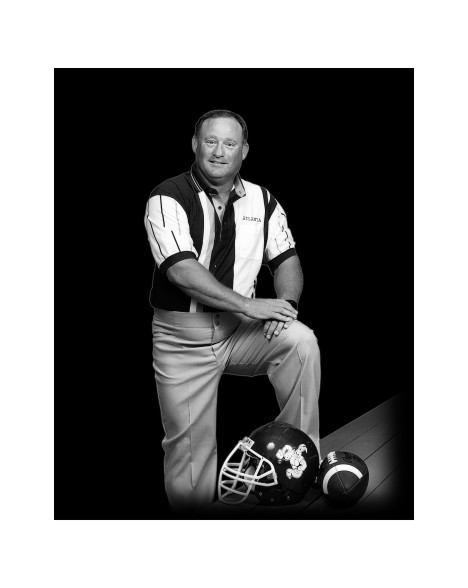 Ben Built Rabbs to the Pinacle
 By Gordon Pynes
     Following a 1 Win 9 loss 1987 football season, Atlanta sought a new Athletic Director/Head Football Coach in 1988.  During eight seasons in the decade of the 1980's Atlanta sports had fallen on hard times and in football had won 30 games while losing 50.  Ben Scharnberg, the Athletic Director at Boling got the job.  As the Atlanta ISD laid out its desires, the main goal seemed to be to beat Queen City, Linden-Kildare (LK), Daingerfield and Jefferson.  Scharnberg understood the desires for football but reminded the Board that he was hired as Athletic Director also and his goal was to build up both the girls and boys program in every sport.  So began a 20-year stint in the job for Scharnberg.   His amazing success has earned him induction into the Atlanta Athletics Hall of Fame (HOF) Class of 2023.
     I was fortunate to be part of Ben's career in Atlanta and it is a privilege to tell his story.  We first met as he prepared to assume the job as the Head Rabbit.  He quickly indicated to me that he would build the football team based on the success of the track team.  Exactly the kind of thinking I had hoped for.
     There is much to chronicle about those next 20 years but not enough space to fit it in this writing but we'll certainly hit the many highlights.  Ben quickly filled his athletes with his enthusiasm for all sports.  He had been an outstanding athlete at Kerrville Tivy and a key member of two State Champs basketball teams and Quarterback for a football playoff team.  He then was a starting defensive back for Southwest Texas State.  Serving as a head basketball coach and football assistant at five high schools prior to four years as the Head at Boling he was well qualified in coming to Atlanta.
     The Rabbits quickly felt his fire, energy, fairness and creative approach to the game.  A spark was ignited and the Maroon rolled to eight wins that first season.  Queen City was beaten but LK and Daingerfield were losses.  That would soon change.  Meanwhile, Ben had set about to boost the Girls program and improve all boys sports.  The change began and Atlanta Pride soared among the athletes, students, faculty and townspeople.  Then in the Spring of 1989 came a breakthrough that launched Rabbit athletics into a dominant role for the next two decades.  The boys track team won the first State championship in any sport Atlanta had competed in.  Rabbit Pride was literally off and running in virtually every sport.
     Ben's second football season produced another 8-2 record and the third in 1990 brought a District title and playoff spot with an 8-2-1 record.  Success continued with a 10-0 District title season before losing to Gladewater in bi-district.  From there the Rabbits reeled off eleven winning seasons including a 1994 State Finalist tussle in the Astrodome.  The high point for Rabbit football glory came in 2003 when the speedy Rabbits blitzed Marlin 34-0 for the State Crown.  Baseball earned a State title in 1998 and the track team added four more State trophies following that first win in 1989.
     Every sport, both boys and girls began to dominate in District and East Texas competition.  If you'll take a close look at the boards on the back of the home side at Rabbit Stadium most of what was accomplished under Ben's leadership is there.  It is just too numerous to mention here.
     One example of football dominance came after that first winning season in 1988.  As the UIL district realignment took place prior to Ben's arrival 88 schools called wanting to play Atlanta.  Two years later in 1990 no one called seeking to schedule the Rabbs.  From then on Ben was forced to play larger schools to fill out the schedule.  Many of those opponents fell victim to Atlanta.
     There were lots of great events and thrills during Ben's tenure.  Although the football champ game was so big, Ben sees the 1994 quarterfinal comeback win over Jefferson as the most memorable and thrilling.  He was always involved in everything from washing uniforms, marking the field and at that last curve in every track meet urging our runners on.  Rarely was he not at every Rabb sporting event for both girls and boys.
     Scharnberg constantly pushed to upgrade athletic facilities and equipment for his players.  His treatment of the coaching staffs resulted in great stability and Rabb success earned some staff members head jobs at other schools.  The big facility achievement came following the 1989 State track crown.  That victory served as the catalyst for construction of a new track, then stadium and fieldhouse.
     Numerous athletes went on to college scholarships and several proceeded to play in the professional ranks. Four football athletes were selected to play in the Texas Coaches all star game held each summer. 
     Ben has earned many coaching honors and as an athlete he is a member of Kerrville's hall of fame.  He was the 2003 Texas Sportswriters 3A Coach of the year.  His greatest impact in athletics has taken place right here in Atlanta.  He is the Rabbits winningest football coach and most successful Athletic Director.  His football record at Atlanta was 150 Wins 85 Losses and 2 Ties.  The Rabbs appeared in the football playoffs 13 seasons and were ranked in the top ten poll in 14 years. That now is by far the best record in 100 years of Rabbit gridiron competition.
     After retiring from the job, his love for kids continued as he became the Assistant Principal at our Middle School.  Then to semi – retire he couldn't leave the kids and drove a long bus route for several years.
     Though a fierce competitor, Coach Scharnberg was most interested in developing young people into lifetime good citizens.  His ability to motivate led to athletic winners and met his goal of producing responsible adults.
From the beginning Ben's personal life guidelines were made a part of every practice ending for his players.  He loudly proclaimed his feelings of the important priorities of life "The Good Lord, Family and this Program".
     Ben Scharnberg had a huge impact on the youth of Atlanta and helped bring great pride to our town.  He certainly did build Rabbit Athletics to a Pinnacle among schools in Texas.  The best example of that is Atlanta ISD winning the 2004 Lone Star Cup Award which matched academics and athletics to measure schools success.  Atlanta won as the top school in the 3A classification.  
     Ben Scharnberg's legacy in Atlanta is now highlighted by his induction into the Atlanta Athletics HOF Class of 2023.  His impact will long be remembered.