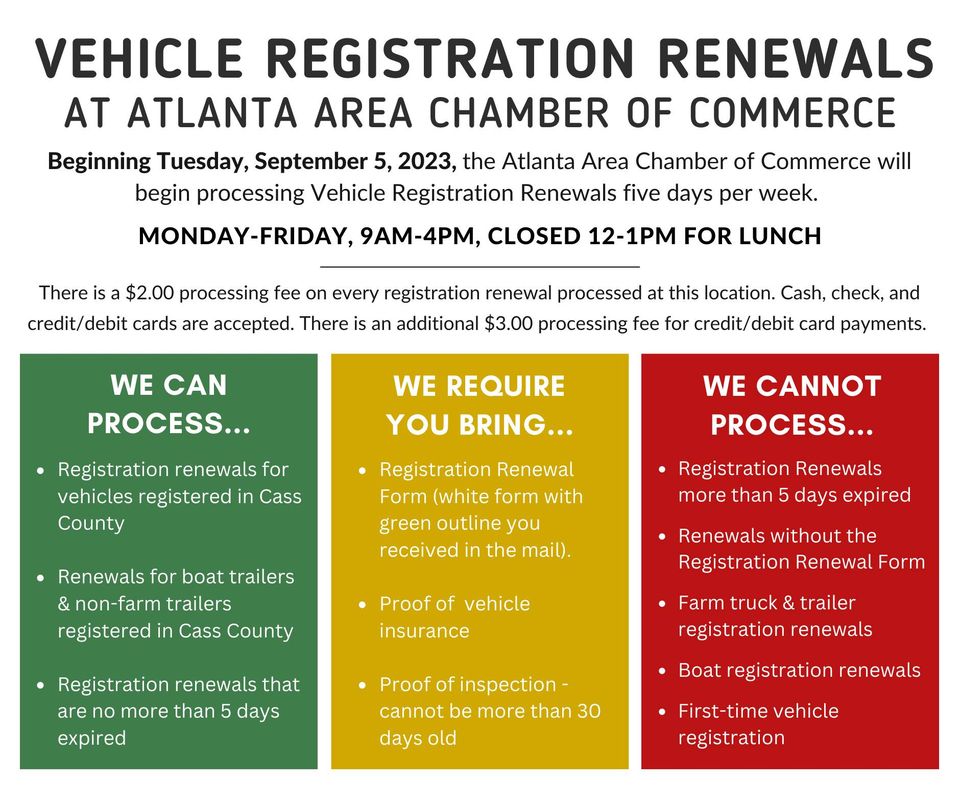 As a courtesy to the community, the Atlanta Area Chamber of Commerce (AACOC) allows the use of its building as a substation for Vehicle Registration Renewals. Beginning Tuesday, September 5th (closed Monday, September 4th for Labor Day), Cass County residents can process their vehicle tag renewals five days per week at the Chamber of Commerce Office, located at 101 N East Street. Office hours are Monday through Friday, 9:00 AM – 4:00 PM, closed from 12:00 – 1:00 PM for lunch.
There is a $2.00 processing fee on every vehicle registration processed at this location. Cash, check, and credit cards are accepted. There is an additional $3.00 processing fee for debit or credit card payments.
As a substation, the State of Texas requires the AACOC to obtain the following paperwork in order to process registration renewals: Registration Renewal Form (green and white form that arrives in the mail), Proof of Insurance, and Proof of Vehicle Inspection. Without ALL of these items, the AACOC cannot process the renewal.
As a substation, the State of Texas DOES NOT allow the AACOC to process the following: farm truck & trailer renewals, boat registration & renewals, and first-time vehicle registrations. The AACOC cannot process renewals that are more than five (5) days expired. The AACOC offers vehicle registration renewals only, and cannot process vehicle titles, handicap placards, etc. If residents fall under any of these categories, they must proceed to the Cass County Tax Assessor Office at 604 TX-8, Linden, TX.
The Atlanta Area Chamber of Commerce is a non-profit, member-funded organization, whose mission is to connect local businesses and the community. The Chamber is not affiliated with local or state government agencies. To learn more about the AACOC mission, please visit atlantatexaschamber.com.