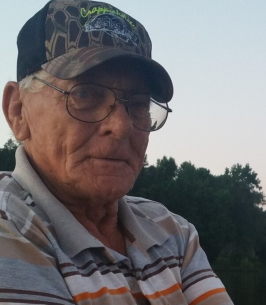 Edward Melton Parker, born on January 23, 1943, in Arkadelphia, AR, passed from this life on August 28, 2023, surrounded by his loving family at his home in Atlanta, TX. He was 80 years old.
Edward is preceded in death by parents Wiley Frank Parker and Dannie Artema (Bridges) Parker; wife Ruth Darlene Parker; daughter Sheila Darlene Parker; brothers Carl Lynch Parker, Wiley Ruffin "W.R." Parker, Tobie Lee Parker, Herbert Frank Parker, and Leonard Hardy "Preacher" Parker; sisters Mattie Faye Parker, Frankie Mae Mathis, and Emma Artema "Polly" Yates.
He is survived by wife Linda Gail (Williams) Parker of Atlanta TX; sons Michael Shayne Parker of Vivian, LA, and Shad Edward Parker and wife Angie of Douglassville, TX; daughters Kimberly Kay Nettles of Midland, TX, Shannon Marie May and husband Derrick of Redwater, TX, and Candice Nicole Parker of Cabot, AR; brothers Billy Charles Parker, Eli Algie "Rusty" Parker, and Roy Allen Parker; sister Johnnie Lou (Parker) Moore; grandchildren Brooke, Kayla, Brandon, Lacey, Kyle, Gunnar, Dylan, Makenzie, and Aimee; great-grandchildren Addilyn, Noah, Georgia Kate, Gentry Lane, Reece, Tre Tre, Kayden, Mylove, Evan, Quattro, Elise, Allie and soon to arrive Jasper; and numerous nieces, nephews, cousins, and other relatives and dear friends.
Ed worked at Bowie Cass Electric Coop for most of his life where he made lifelong friends. He loved fishing, hunting, and spending time with his children, grandchildren, and great grandchildren. He never met a stranger and could be found at the lake most days fishing during his free time after retirement.
Ed is being cremated under the direction of Queen City Funeral Home in Queen City, TX. A Celebration of Life in his honor will be held at the Antioch Baptist Church located at 5820 FM 2791, Atlanta, TX, at 10:00 a.m. on Saturday, September 9, 2023.
In lieu of flowers, donations can be made in his honor to either the Antioch Cemetery at 239 CR 4115, Atlanta, TX 75551, or the Queen City High School Bass Fishing Association made payable to Queen City High School Activity Account referencing the Bass Club at P.O. Box 128, Queen City, TX 75572.
A private graveside service will be held by the family at a later date.