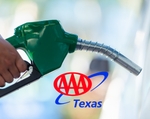 The statewide gas price average in Texas is $3.38 for a gallon of regular unleaded fuel, according to the AAA Texas Weekend Gas Watch. That price is three cents less than on this day last week and is 27 cents more per gallon compared to this day last year. Of the major metropolitan areas surveyed in Texas, drivers in El Paso are paying the most on average at $3.71 per gallon while drivers in the area are paying the least at $3.24 per gallon. The national average price for a gallon of regular unleaded is $3.83, which is four cents less when compared to this day last week and seven cents more than the price per gallon at this same time last year.
Gas prices are trending lower this week, but most drivers probably won't notice much savings at the pump. The year-over-year statewide average price gap increased by two cents per gallon, with regular unleaded 27 cents more than one year ago in the Lone Star State. Crude oil prices continue to be more expensive, hovering above $90 per barrel, due to tightening global supply. Demand for fuel increased week-to-week, but gasoline stocks also saw a slight increase. Moving forward gas prices may fluctuate with some relief possibly on the way when winter-blend gas, which is usually cheaper to produce, makes it way to market in the coming weeks.
"Gas prices are dropping, but it's unlikely that many drivers will notice", said Daniel Armbruster, AAA Texas spokesperson. "The statewide average dropped three cents this week, but fluctuation remain possible. Crude oil, the main ingredient in gasoline, continues to be more expensive due to tightening global supplies."
Drivers in Texas are paying the seventh lowest gas price average in the country, according to gasprices.aaa.com. Meanwhile, drivers in California are paying the most at $6.03 on average for a gallon of regular unleaded.
Prices up to date at press time using market prices posted at 3:41 a.m. Motorists can find current gas prices along their route with the free and revamped AAA App for iPhone, iPad and Android. The app can also be used to map a route and learn traffic conditions along that route, find discounts, locate parking, book a hotel and request and track AAA roadside assistance. Learn more at www.AAA.com/mobile.