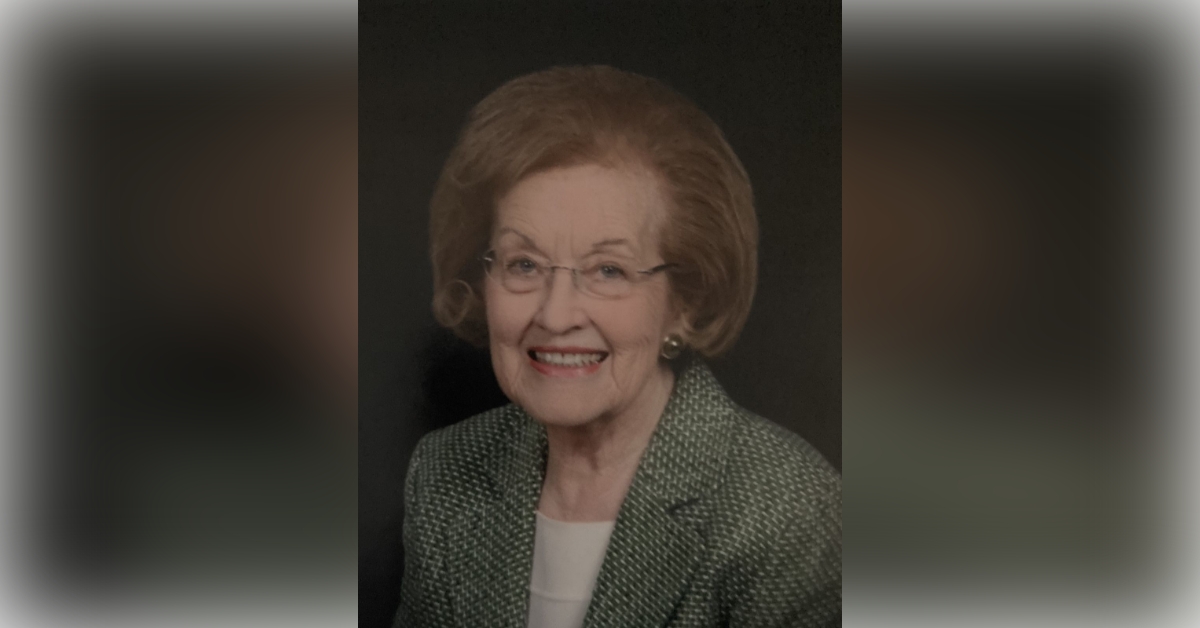 Josie Bell Green Hughes, of Atlanta, Texas, was reunited with her beloved husband and daughter, Jan, upon her death on September 28, 2023. She was 96 years old.
She married James H. Hughes, Jr. May 30, 1946 in Mineola, Texas and enjoyed 64 years of marriage until his death in 2010. She resided in Atlanta for 75 years.
She was born to Anna Dee Anderson Green and Patrick Henry Green in Williams, Oklahoma on November 20, 1926.
Because of her warmth and friendly nature, Josie responded to working for others in her town and community. A lifelong member of the First Baptist Church of Atlanta, she served as nursery superintendent, Beginner teacher, Sunbeam director, Junior training director and on various committees of the church. She has served an active member of the Atlanta Public Library Board, The Civic Improvement Committee, the Parent-Teacher Association, United Fund Committee, Brownies and Band Boosters, and served as Room Mother for ten years.
She is past matron of The Order of the Eastern Star and has served as president of the Past Matron's Club. She was an able speaker and gave many book reviews to her study club, The Antheneum Club. The honor of being nominated as "Mother of the Year" in the state finals by the women's Federated Clubs of Texas was bestowed on Josie Hughes in 1963. However, her influence for good and right has reached beyond the walls of her home and touched the lives of many. Josie loved being a mother and homemaker and had three daughters, the youngest with special needs who was always at her side.
She was preceded in death by her mother and father, Anna Dee and Pat Green; her husband, Dr. James Homer Hughes, Jr.; daughter, Jan Hughes; brothers, Jim Green, Joe Green and Johnny Green; and sisters, Beatrice Dowdy and Joyce Tallman.
She is survived by daughters, Joy Wallace of Beaumont, Texas, Jill Lummus and husband Gary of Atlanta, Texas; grandchildren, Hayley Mitchell, Holly Mitchell, Ryan Piazza and Carrie Hunt, James Piazza, Jamie and Chris Longacre and Chris and Tammy Lummus; great grandchildren, Hannah and Hastin Dodson, Brett and Lacey Piazza, Kali and Tanner Jones, Cody Blank, Claire and Silas Henderson, Blake Lummus, Kate and Casey Smith; great great grandchildren, Maisyn, Tucker and Sawyer, Blaken, Henley and Beck.
Funeral services will be held, 2:00 pm, Monday, October 2, 2023 in the Hanner Funeral Service Chapel, with Rev. Donnie Stribble and Rev. James Piazza officiating.
Visitation will be 6:00 pm to 8:00 pm, Sunday, October 1, 2023 at Hanner Funeral Service.
Interment will be in Pine Crest Cemetery.
Memorial contributions may be made to First Baptist Church, P.O. Box 1089, Atlanta, Texas 75551 or St. Jude's Hospital, 501 St. Jude Place, Memphis, TN 38105.