By Gordon Pynes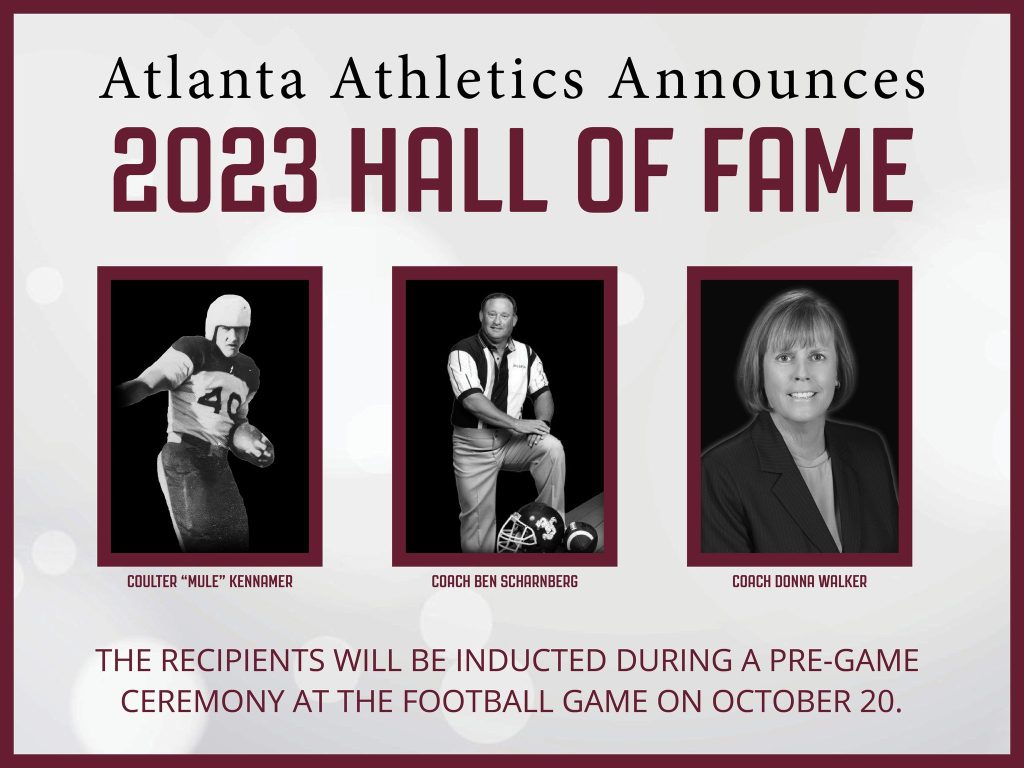 Friday night at Rabbit Stadium three notables in Atlanta sports history will be inducted into the Atlanta Athletics Hall of Fame (HOF).  The ceremony will begin about 6:20 prior to the 7 P.M. kickoff of the Rabbits – White Oak District game.
     This years' HOF Class of 2023 honors Coulter "Mule" Kennamer, former Lady Rabbs Coach, Donna Walker and longtime Rabbit Athletic Director/Head Football Coach, Ben Scharnberg.
     A reception for families, friends and former players will be held in the Atlanta High School Cafeteria from 5-6 P.M prior to the game.  Former players for Coaches Walker and Scharnberg are urged to form behind them down on the field about 6:20 P.M.
     Black granite plaques will have been placed on the Stadium entry way left wall which give a short story of each honoree.  An on field ceremony prior to kickoff will have framed replica plaques presented to each new HOF member.
    Coulter "Mule" Kennamer was a Rabbit star running back in the 1944-46 seasons.  He led Atlanta to two District championships as a powerful and bruising runner who in the 1946 season scored 107 points.  Area sportswriters lauded him as one of the best running backs in East Texas history.  Another writer was of the opinion that Mule could only be stopped by locking the gates and keeping him out of the stadium.  One legendary story claims Mule took a kickoff at old Bivins – Trice Stadium and ran through the opposing team and then slowed to pet a dog that had run on the field beside him.  Mule then ran on for a touchdown.  Mule was team captain, played basketball also and was named Best Athlete at Atlanta High in 1947.  Highly recruited by several Southwest Conference schools, Mule chose the Arkansas Razorbacks.  He suffered a severe knee injury in his freshman year that ruined his college career.  Mule spent most of his adult life working at Lone Star Steel and passed away in 1997.
    Coach Donna Walker came to Atlanta High School in 1986 and would coach almost all girls sports over the next 20 years.  She was the Lady Rabbs basketball coach and compiled a stellar record producing 331 total wins with12 Playoff appearances and a trip to the Regional Finals.  Walker also headed the boys and girls tennis program and twice had boys' doubles teams at the State tourney.  Several of her basketball players went on to earn scholarships at major schools.  One, Ravon Justice is now Head Womens' basketball coach at Sam Houston State and credits Walker for much of her success.  Donna went on from Atlanta to coach basketball at
Rockwall Heath and head the tennis program at Alief Hastings.  She recently retired from coaching but is very active in pickleball and spends the summers hiking and canoeing within Montana's Glacier National Park.
    Ben Scharnberg was hired in 1988 to revive the Atlanta football program.
He quickly went about that but added a boost all across the sports competitions.  During his 18 years as the head of Atlanta ISD athletics Ben built the Rabbits and Lady Rabbs into an East Texas and statewide power.
His achievements included a State Football Championship (2003), five boys State track titles and a baseball crown.  Prior to his hiring, the Rabbits had never won a State championship in any sport.  His football teams made him the winningest grid coach in Atlanta history.  The 1994 State finalist team rolled up the most wins ever in a Rabbit season with 13.  During the 2003-2004 school year Atlanta earned the Lone Star Cup which compiled top sports and academic performance in a statewide competition.  Retiring as Athletic Director in 2006, Ben and wife Jana still reside in Atlanta.
    Ben was active in the original formation of the Atlanta Athletics Hall of Fame in 2018 to carry on Atlanta Pride and the Rabbits winning traditions.  This program requires tax free donations each year to keep on.  The beautiful etched black granite plaques and several smaller expenses require about $3,000 each year.  Your donations are greatly appreciated by the HOF Committee.  Checks to Atlanta Athletics HOF can be mailed to P.O. Box 637 in Atlanta, Tx 75551 or made online via our Facebook site.
     Hope to see you for the ceremony and game Friday night.  Go Rabbs beat White Oak.