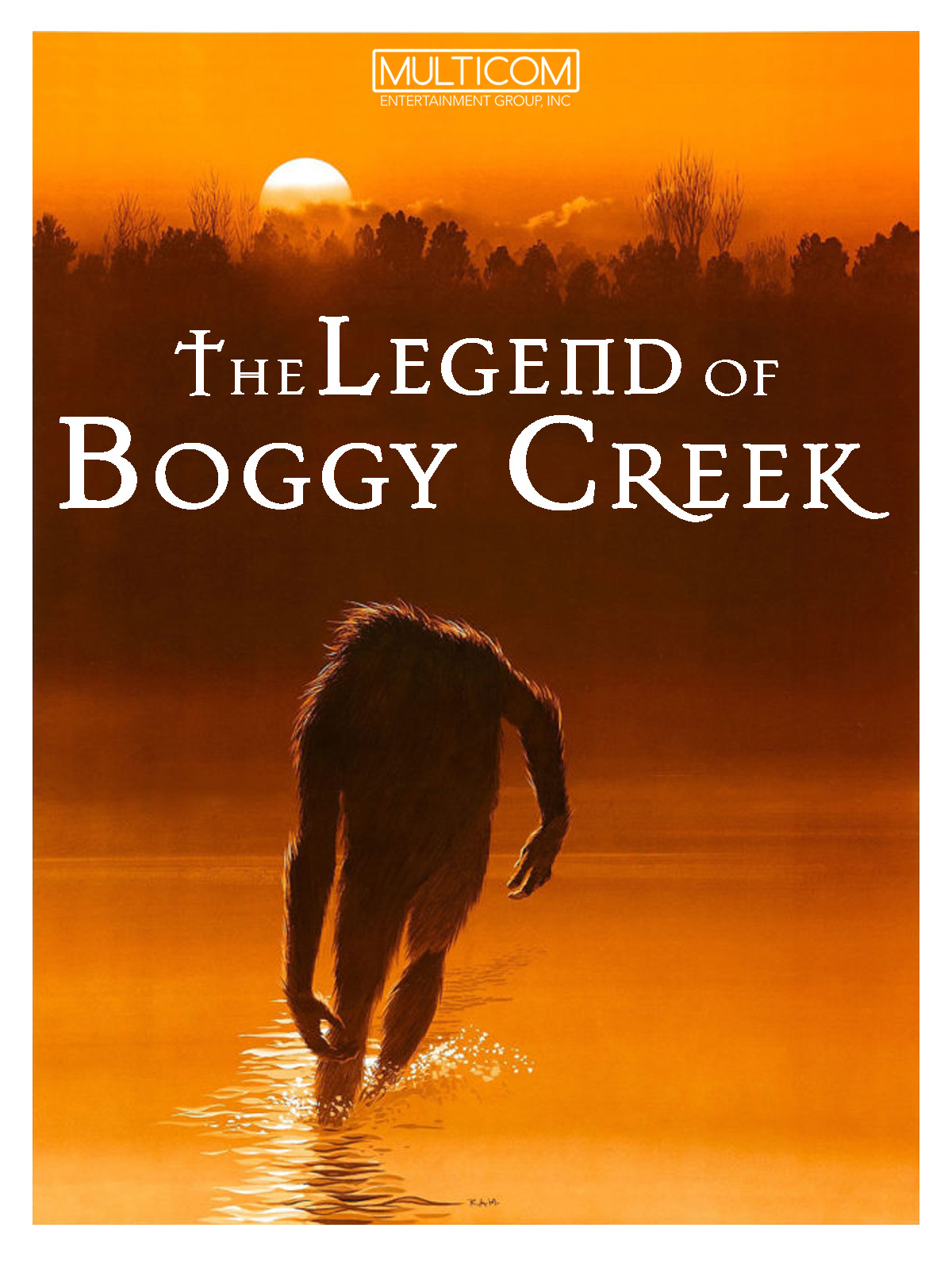 Story by Kate Stow
(Originally printed in HER Magazine, April 2019)
When Pamula Pierce Barcelou was a third grader at Kilpatrick Elementary in Texarkana, she came home one day to find her father in the living room floor surrounded by camera parts and instructions on how to put the new 16mm video camera together. It hadn't been very long since she overheard her dad telling her mom about a creature in the woods and that he was going to make a movie about it.
"Dad had been on TV every day of my life, so it wasn't that big of a deal to me," Pamula said. "All the kids at school acted like he was a rock star because he was Mayor Chuckles on the Laffalot Club on KTAL."
At the time, the Pierce family was living at the Orleans Apartments on the Arkansas side. Charles B. Pierce was a weatherman, as well as hosting the children's show, and he owned a local advertising company. This new movie about a "creature" that lived in the woods nearby would bring in the money he needed to move his wife and three children into a nice home on Grand Avenue.
"The kids at school had been talking about a creature that attacked a man named Bobby Ford in Fouke," she recalls. "I thought it was just kid talk, I guess. Kids have big imaginations, so I wasn't sure if it was true or not."
During the time between deciding to make the movie and buying the new camera, Charles had persuaded his friend, L.W. "Buddy" Ledwell, to finance the money for it. For $100,000 the movie became a "Ledwell/Pierce Production." His son, Steve Ledwell, became one of three people to wear the creature costume in the movie. Other rolls were filled by locals who had never acted at all.
"My brother Chuck, Jr. was in the very first scene they shot. It's of him running through the field after seeing the creature," Pamula said. "It took a lot of takes to get the lighting just right, so he spent all day running. I remember dad bragging on him and telling him he earned a go-cart."
While her dad was filming the movie in the woods around Fouke, Pamula was going to school every day, barely aware of what the movie filming entailed. Until one day when her 18-year old uncle picked her up early from school and took her to the filming site.
"I remember that like it was yesterday. Me and another girl had to run inside the cabin yelling for 'Grandpa', but my mother, who was playing the mom, wouldn't let us wake him up. We took her out on the porch to show her the monster we saw," Pam remembers. "We were told to point in one direction, but I heard a noise and turned around, and saw this tall, hairy creature. That was a real scream – the first time I had seen the monster. When dad yelled 'cut', Steve Ledwell took the head off to show us it was him in costume."
Pamula said her dad didn't really do much in the way of directing her, "probably because he didn't want to ruin the authenticity of our fright. He just told us to come running like something was after us, yell Grandpa, then show your mom where you saw it, and say things like you're trying to convince her."
Anyone who has seen The Legend of Boggy Creek will vouch for that authentic scream. It was real enough to have a theatre full of patrons scream along – no matter how many times they saw it.
When the movie came out, it was premiered at The Paramount Theatre in Texarkana. The theatre had been closed for a while at the time and needed a good cleaning. Pamula tells how the family and all the actors met at the theatre to clean it up, saying "we worked really hard and got really dirty."
The movie, filmed in Technicolor on that 16mm camera, was first shown in Texarkana, Shreveport, El Dorado, AR and Monroe, LA. Charles couldn't find a distributor for the movie, so he had to "Four Wall" it, meaning he rented the theatre, took on all the costs, but also collected the profits.
Steve Ledwell told Pamula the very first profit run he and Charles went on resulted in $55,000 and included the first three weeks of showings at all four theatres. In todays money that would be equivalent to $330,000. The movie went on to make $20 million.
The Texarkana showing had people lined up around the block. Some even brought their lunches with them.
"Dad would say 'let's get in the car and go see how much money we're making,'" Pamula recalls. "He would drive us around the Paramount to see the line of people. It went on for days, or maybe weeks."
One of the major challenges was creating the creature. They based the look on stories people had told over the years – all claiming first-hand knowledge. Chosen to create the artwork for the poster was an artist named Ralph McQuarrie. He is responsible for the iconic image that is used on everything involving the Legend of Boggy Creek.
McQuarrie went on to create story boards for George Lucas, who was then developing a film later titled "Star Wars." The story goes that Lucas told McQuarrie to make the Chewbacca character a cross between his Malamute dog and a lemur. Instead, McQuarrie chose to base Chewbacca on his Boggy Creek character. And, since he had already done the artwork for Charles Pierce's following movies, including The Town That Dreaded Sundown, he based Darth Vader on the Phantom with a cloth sack over his head. Listen closely to the breath sounds of Vader and the Phantom and you will hear the connection.
Later, McQuarrie designed posters for more of Pierce's movies, as well as ET for Stephen Spielberg, Encounters of the Third Kind, and he won an Academy Award for Cocoon. A collection of his artwork, in book form titled "Archives" has been donated to the Texarkana Public Library, so anyone may stop by to see the Boggy Creek monster side-by-side with Chewbacca.
After The Legend of Boggy Creek, Pierce directed Bootleggers in 1974, Winterhawk in 1975 and The Winds of Autumn in 1976. The Bootleggers starred Jaclyn Smith and Slim Pickens, and the premiere was also held at the Paramount, with the actors attending.
The next movie, about the Phantom killings that occurred in Texarkana in 1946, was premiered in 1976, also at the Paramount. Pamula recalls the controversy that movie caused, even before it came out.
"People were all so paranoid, thinking dad was going to portray them as the killer, and some were afraid the killer would see the movie 30 years later and come after the survivors he thought he had killed," Pamula said. "We had crowds on our lawn praying, had two home invasions, and someone even threw a brick through the window."
Charles had worked on several other Hollywood movies and had befriended several actors by this time. On this movie he didn't have to use locals for all the parts. He hired Dawn Wells, who played Maryann on Gilligan's Island, Academy Award winner Ben Johnson, and Andrew Prine, who has a long credit list that stretches from 1957 to present day. Pierce even gave himself a role as Sparkplug, the comic relief needed in the dark film based on true events.
Those two movies were both based on real events as they appeared in the Texarkana Gazette newspaper. All the creature sightings were recorded there, exactly as the locals explained them. And the phantom killer was very real, with all local law enforcement trying to catch him, along with a Texas Ranger that was sent to investigate. The killer never was found, but "Dad was convinced it was Youell Swinney, and kept a mugshot of the man in his wallet for as long as I remember," said Pamula.
But it was the Legend of Boggy Creek, labeled as a "docudrama" that created its' own genre. The creature was forevermore linked with Bigfoot, Sasquatch and the Yeti. People who are obsessed with finding one, or proving their existence are called cryptozoologists. Pierce's movie is a must-see for them. It is this crowd that made the movie a world-wide cult hit.
It's never been very easy to find the movie, but beginning this month it will be, due to the diligent work of Pamula. Last year Ledwell, who has always owned the copyright, sold it to her for $1.00. Since then she has worked diligently to find the original reels (they were in a Hollywood warehouse) and have them remastered for 4k digital at the George Eastman Kodak Museum in New York. She also had the sound cleaned up.
The next step was to find all the bootleg copies out there and send cease and desist letters to the companies selling them. She was able to meet with famed documentary producer Ken Burns, who introduced her to his attorney. Meeting him was easy, as they both live in the small state of New Hampshire. She only had to visit the restaurant he owns (Burdicks) down the road from her and ask for him.
"My dad was a huge fan of Kens," she said. "He looked up to him like no one else. It's amazing that now we share the same intellectual property attorney. My father would be so honored!"
Along her new journey she has met with several companies to discuss marketing ventures. She won't say who yet, but she did hint that Wal Mart is interested in being a distributor.
Before finding her way to New Hampshire, Pamula moved to Shreveport with her dad after her parents divorced, and later to California. As the teenage daughter of the "movie-maker" she was able to get prime concert tickets. She admits to being indulged during that time, although Pierce kept a check on her appearance, because "as the daughter of a movie producer, he expected his family to look a certain way."
"The man (William Wellman) who built our house in Beverly HIlls had won the very first Oscar for Best Picture in 1929 for a movie called 'Wings'," she said. "I met a lot of famous people when we lived there. I even attended the same school as Shawn and Patrick Cassidy."
Later, while living in Carmel, CA, Pierce wrote the 1983 movie Sudden Impact, starring his friend Clint Eastwood in the fourth of the Dirty Harry series. Its most famous line, "Go ahead, make my day," has been ranked in the top ten of the
And that premiere is coming up, June 14-16, at the Perot Theatre, where it all started, back when it was called the Paramount. After searching for a 4k digital projector to rent for the premiere and finding it out of the budget, she finally was able to help the Perot have one donated for permanent use.
The premiere date of June 14-15, 2019, was picked by Pamula to coincide with Charles B Pierce Day, which is June 16 in Texarkana. The first showing, on Friday evening, will feature appearances by many of the original cast and some famous fans of Pierce. Lyle Blackburn, who produced a sequel to Boggy Creek, and is a large presence on reality TV shows like "Finding Bigfoot" has already committed to be there. After the premiere, there will be an after party within walking distance of the Perot.
"I feel like God has led me every inch of the way. I'm supposed to do this," Pamula said. "I loved my daddy so much, and we were so close. I never would have guessed that one day I would be in charge of The Legend of Boggy Creek. I feel like he is looking down on me and he's proud."
-30-
As a sidebar:
Charles B. Pierce filmography credits:
Director
1998 Chasing the Wind
1997 Renfroe's Christmas
1988 Hawken's Breed
1984 Boggy Creek II: And the Legend Continues
1983 Sacred Ground
1979 The Evictors
1978 The Norseman
1977 Grayeagle
1976 The Town That Dreaded Sundown
1976 The Winds of Autumn
1975 Winterhawk
1974 Bootleggers
1972 The Legend of Boggy Creek (Documentary)
Writer:
1988 Hawken's Breed (written by)
1984 Boggy Creek II: And the Legend Continues (written by)
1983 Sudden Impact (story)
1983 Sacred Ground (writer)
1979 The Evictors (writer)
1978 The Norseman (writer)
1977 Grayeagle (written by)
1976 The Winds of Autumn (original story)
1975 Winterhawk (written by)
1974 Bootleggers (story)
Producer:
1988 Hawken's Breed (producer)
1984 Boggy Creek II: And the Legend Continues (producer)
1979 The Evictors (producer)
1978 The Norseman (producer)
1977 Grayeagle (producer)
1976 The Town That Dreaded Sundown (producer)
1976 The Winds of Autumn (producer)
1975 Winterhawk (producer)
1974 Bootleggers (executive producer)
1972 The Legend of Boggy Creek (Documentary) (producer)
Actor:
2014 The Town That Dreaded Sundown – Man in Diner
1997 Renfroe's Christmas – Narrator (voice)
1988 Hawken's Breed – Noel Hickman as an old man (voice)
1986 The Aurora Encounter – Preacher
1984 Boggy Creek II: And the Legend Continues – Dr. Brian C. Lockhart
1977 Grayeagle – Bugler
1976 The Town That Dreaded Sundown – Patrolman A.C. Benson
1976 The Winds of Autumn – Fred Hankins
1974 Bootleggers – Homer Dodd